My friend Taylor and I have been talking about hosting a garden party since probably early 2018. We wanted to do it for the first time last summer, but scheduling didn't allow for it. This year, we were determined to make it a priority and we were able to find a date in early June that would work for both of us. We didn't have any reason to do it other than we wanted to do something special and hang out with our friends, but an event like this would be perfect for a bridal shower, baby shower, or other special occasion.
Our original idea was to have a beautiful garden party in Taylor's back garden with a prosecco bar, tea, and some light finger food. Unfortunately the weather had other ideas. And after all the hard work Taylor put into her garden leading up to the party, it wasn't even an option to be outside anymore. It poured rain in the days leading up to the party and the morning of, it was grey, windy, raining, and cold. We were able to call an audible and make arrangements to host the party inside. Of course we were sad that people weren't able to come, but it ended up being a good size group for the space we had in Taylor's house.
We had a really clear vision of what we wanted the party to look like. It was girls only because we figured the men wouldn't appreciate getting dressed up and using china quite as much as the ladies would. The dress code was "garden smart" with a hat or fascinator required. We were basically picturing horse race/ascot attire. We wanted to keep the decor to a minimum since Taylor's garden is really green and lush, but with our plans to move it inside, we just picked up more flowers than we would have originally. We collected china from family (Luke's mum gave us over a dozen cups, saucers, and small plates) and picked up some more from a nearby charity shop. We were able to rent a case of champagne flutes from Waitrose. It's actually a fantastic party idea. Luke picked up a case of 48 (the smallest available) on Friday. They're free to reserve and you only pay £1 per broken glass. We opted to make everything from scratch, so we researched recipes for typical afternoon tea foods to find the very best.
SET A THEME WITH THE INVITATIONS
You might know by now how much I value a good on-theme invitation and an afternoon tea or a garden party is no different. Since we wanted it to be slightly above a casual thing, we send out evites with plenty of time for people to plan ahead. We did have to follow up with some people and remind most people of the dress code, but we agreed that an evite would better fit the tone of the party more than a Facebook event or a group text.
KEEP THE DECORATIONS SIMPLE
Like I mentioned above, our original plans were to let the garden shine in its natural glory, but when we moved things inside, we decided to get more flowers than we would have otherwise. I got a few different prints and patterns of cardstock to use to make bunting that we planned to hang on Taylor's hedges. Instead, we made three shorter strands to hang around her living room and dining room.
The day before the party, we went to a nearby florist to pick out flowers and greenery to use as centrepieces and around the room. We wanted to go with a light pink and cream colour scheme to match the bunting and the invitations, with different shades of greenery. I'm obsessed with the flowers we got and we divided up the six different arrangements (four on the long table, one on the drinks table, one on the food table) between us after the party. Taylor added extra greenery and baby's breath to the wreaths she always has hanging in her living room and it looked so cute above the drinks table.
To save costs on flowers, I recommend loading up on greenery and more affordable flowers like baby's breath and carnations. I'm usually not a carnations person, but Taylor pulled these cream coloured stems and I love how they looked in the bigger arrangements. We only got a few of the "statement" flowers, like snapdragons and peonies to save on costs and it made those flowers stand out even more. I really liked that not all the arrangements were exactly the same, but had similar elements across all six.
HAVE A MIMOSA BAR
For some reason, ever since I first got Pinterest, it's been one of my dreams to have a mimosa bar at a party. I finally got to see that dream realised! We got three different types of juice (pink grapefruit, mango, and pineapple) and put them in these cute jugs that I got a while ago at our grocery store. Everyone could mix and match their own mimosa and add strawberries, blueberries, and/or raspberries. We had everyone bring a bottle of prosecco to share.
MAKE THE FOOD YOURSELF
When you go to afternoon tea at a fancy restaurant, they'll bring you a three tiered stand with all the quintessential foods. You start on the bottom and work your way up the three tiers. The first course is finger sandwiches, which will include a variety of fillings and probably both wheat and white bread. This could be chicken salad, tuna salad, egg salad, cucumber, ham and brie, smoked salmon, or roast beef. When I hosted an afternoon tea for my friends after my senior year of high school (I know, I was so cool), my mom said we should have white (chicken salad), pink (tuna salad), yellow (egg salad), and green (cucumber). The second course is a traditional English scone with clotted cream and jam. The top tier is dessert. This will be little cakes, petit fours, macarons, etc. We also had mixed berries, which is a really simple thing to do to add more colour and flavour (and nutrients) to your spread.
Here's exactly what we made: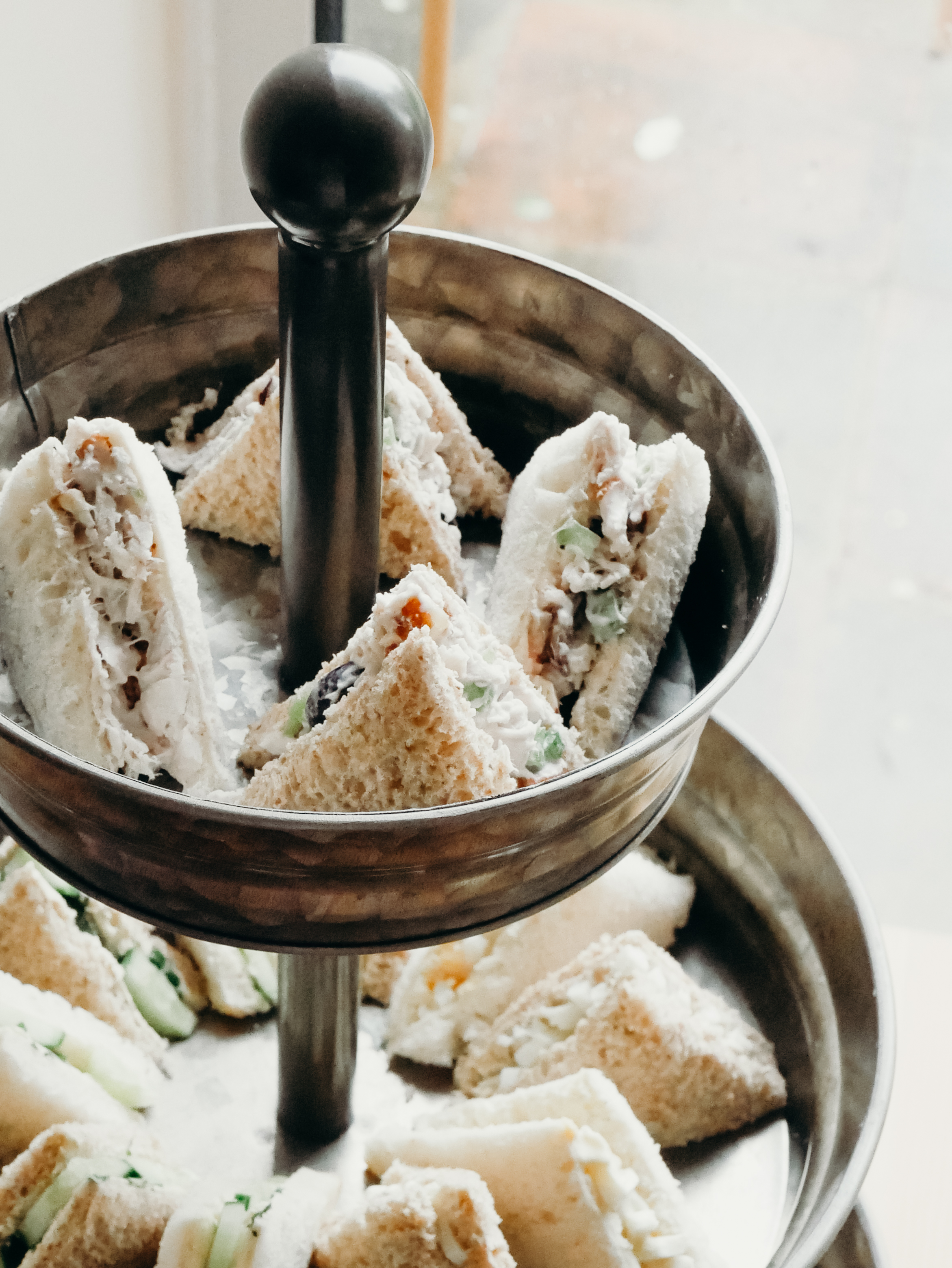 Taylor made the chicken salad with grapes and walnuts. (The original recipe calls for pecans.) We made all of the sandwiches on both wheat and white bread. I recommend getting as close to rectangular loaves as possible, otherwise you're cutting off a lot of top crust where it's uneven. Tea sandwiches always have the crust removed and are cut into thirds or fourths. I cut an X into the sandwiches, which made for two different sized triangles. I wish I had just cut them all into three strips (from top to bottom).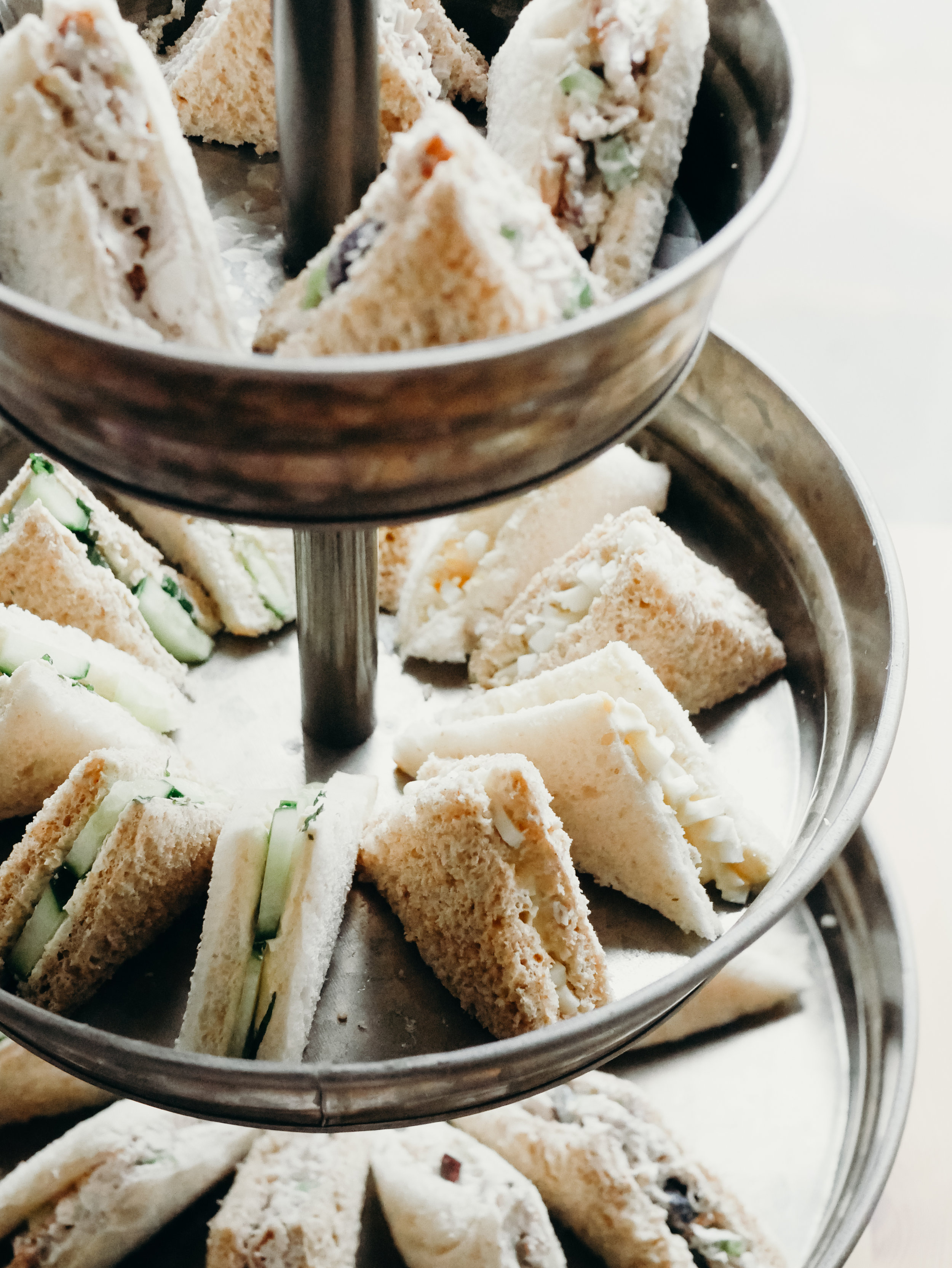 Taylor found a cucumber and mint recipe to use. Cucumber sandwiches are quintessential for a proper English tea, if you ask me. You can do cucumber with butter or cream cheese. You can do it with mint or dill. Or I suppose you could do something completely different. Like the other sandwiches, we made them on both wheat and white bread. I cut them into triangles, but again wish I had cut them into three strips.
I found a really simple egg salad recipe to use. I very easily tripled the recipe to account for us having a dozen people, which made enough for three full sandwiches, or 12 finger sandwiches. Again, we did both white and wheat. And actually, I really love how cute the little circular sandwiches look from the original recipe. I also skipped the parsley and used regular mayo instead of Japanese mayo.
I only trusted a British site to give me a good recipe for proper English scones and BBC Good Food came through for me. They were really simple to make and when I forgot to put the sugar in the first batch, it was easy to whip up a second. I used my second smallest pastry cutter to cut them out and made 16 in each batch. I'm not sure if that's double what the recipe says it serves or if one serving is two scones, but I also think I could have gone a little thicker on rolling the dough out. Since there's so little sugar in the recipe, there wasn't much of a difference between the two batches, especially when you had the cream and/or jam on as well. (I'm a cream only person.)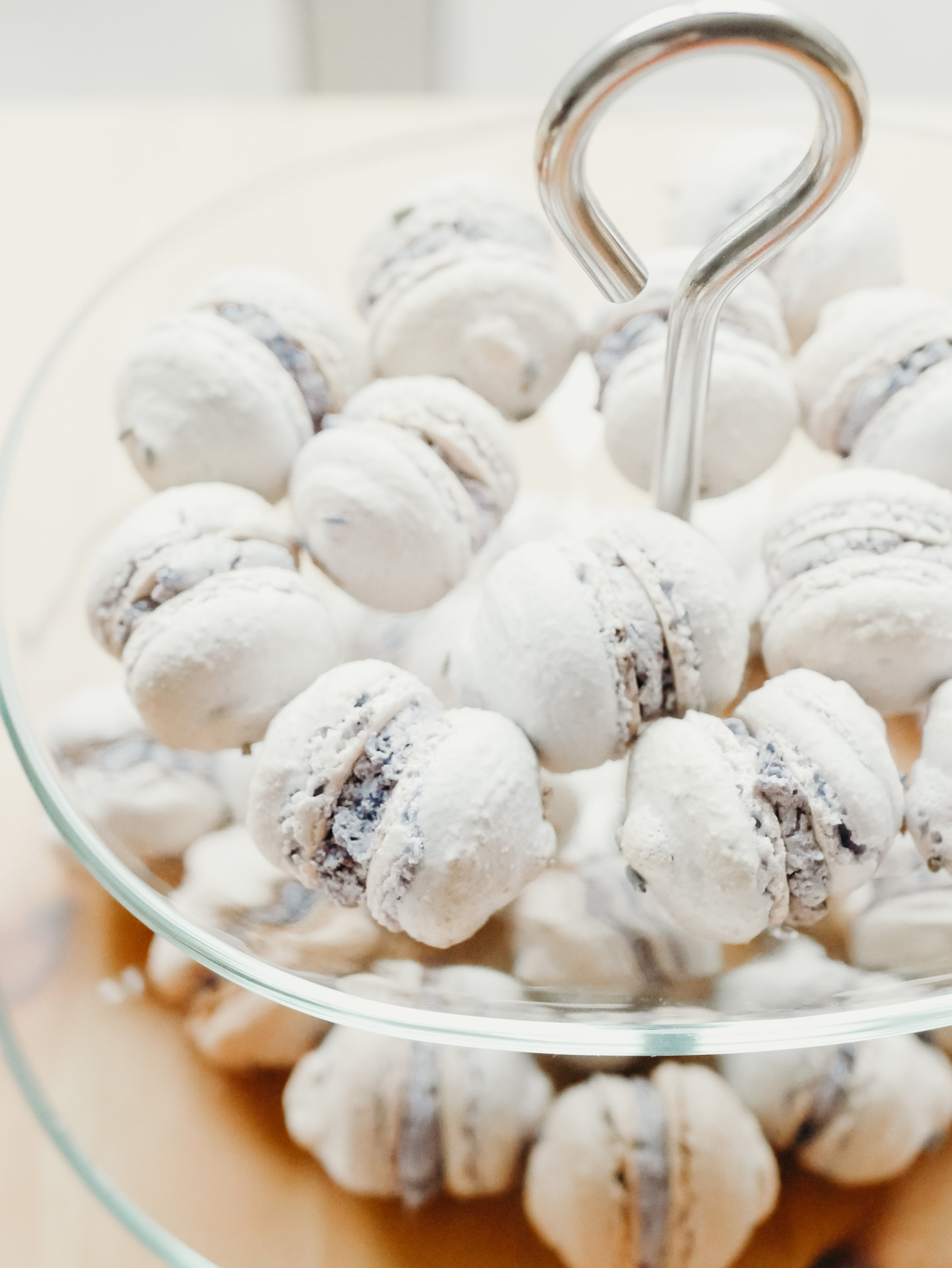 Taylor made gorgeous lavender macarons, completely from scratch. She was able to make the shells in advance and make the filling closer to the party. I think she wishes she had made the buttercream and filled the macarons on the same day though. Regardless, I think they turned out absolutely gorgeous and I love the dried lavender buds on the tops!
ROSE & ELDERFLOWER PETIT FOURS
Of course I turned to Sally's Baking Addiction for a simple petit fours recipe, though I did make some tweaks. Instead of making a lemon cake, I flavoured the batter with 1 tablespoon of rose water (this replaced the 3 tablespoons of lemon juice in the recipe). Her step-by-step instructions and corresponding video were really helpful, but I decided to make the petit fours with just a single layer of filling, spreading rose and elderflower curd on one side and the vanilla buttercream from the recipe on the other side. I wish I had measured out the cuts I made so they were more uniform, but they turned out okay. I used her Perfect Vanilla Icing recipe for the icing, colouring it with just a touch of pink food colouring. I scaled up the recipe to use 5 cups of confectioner's sugar and kept it vanilla so the rose wasn't too overpowering. I let the first coating dry before adding a second to help the colour pop on the cakes more. I topped them with edible rose petals before the second coat of icing was dry.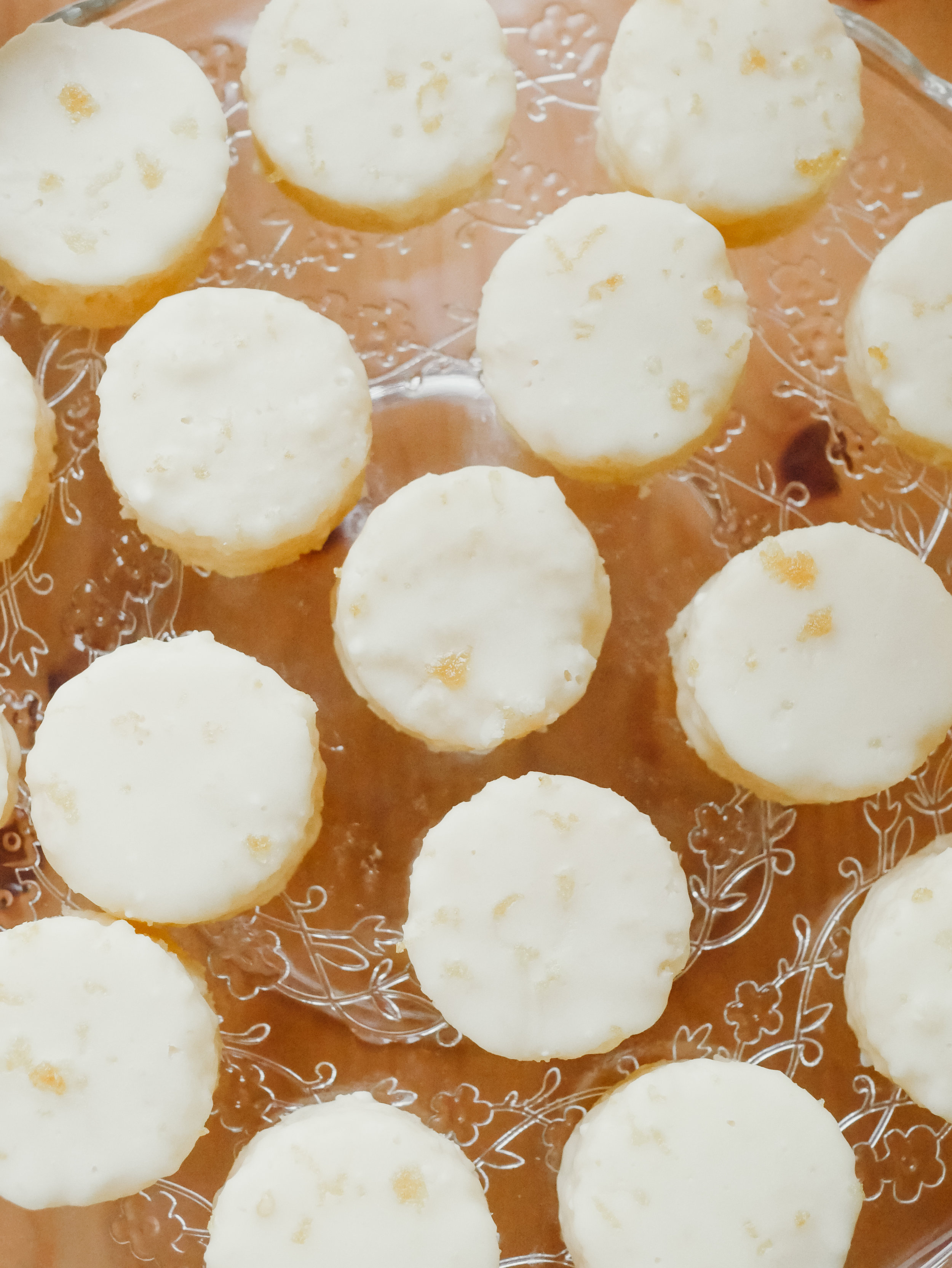 If I had had enough cream cheese let to make another batch of the original petit fours recipe, I would have. But I decided to try a different lemon cake recipe from Sally's Baking Addiction when I thought it would be good to have a non-floral dessert option. I used her three layer lemon cake recipe, dividing it into two layers instead of three to make thicker cakes. I opted not to do a filling on this batch and keep it simple. I used my smallest pastry cutter to cut out ten small cakes from each layer. I then used the same icing recipe with a touch of yellow food colouring for a nice pastel shade. I garnished the cakes with fresh lemon zest, though I wish I had waited until the second coat of icing had hardened.
HAVE FAVOURS
We decided that instead of including decorated sugar cookies in the spread, we would have them as favours for everyone. We baked the cookies earlier than most of the food so the process of decorating them wouldn't interfere much with making the rest of the food. The original idea was to write everyone's name on their cookie, but Taylor, who did all the decorations on them, found that just a first initial would be a lot easier. They turned out really well, I think! And I finally got to use the little cellophane bags I've had in my baking supplies for ages.
Taylor's Dress (in blue) | My Dress | My Fascinator
If you're worried about making so many different recipes, I would recommend looking into local bakeries who can make some pastries affordably to take things off your plate. We found a bakery that sold scones for 55p each, but it was too far away to make it worth it for us. If you're worried about some of the desserts, those are really easy to get from a bakery.
This post contains affiliate links, so I may make a commission off any purchase you make through the link. Some linked items are similar to what has been shown. Thank you for supporting my blog!