This certainly isn't the first time I've talked about meal planning here, but it's an ever changing process for us that we tweak as we see fit in order to best serve our needs.
I personally love meal planning because it gets me excited for the week ahead and it's a great opportunity to talk about any upcoming plans we may have. I find that I crave the meals we have plan and it definitely helps curb cravings for ordering out or eating junk. (Don't worry, we're not perfect and sometimes we'll scrap plans and order take out curry, or Chinese, or pizza or something.) We usually try at least one new recipe a week in order to expand the arsenal from which we choose and that's been a really fun aspect of it too. Luke doesn't enjoy meal planning as much as I do, but he's still game for it every week.
Every Sunday morning, we sit on the couch and meal plan for the week ahead. We began following a template for the week in early 2018 so we could more easily see how often we're eating things like rice, pasta, bread, etc. and try to eat fewer carb-heavy meals each week. This year, we're trying to eat less meat, so we're alternating vegetarian salads on Tuesdays and vegetarian soups on Wednesdays. We're not great at it, but a goal of two meatless dinners a week is pretty good for us.
After we've planned our meals, we'll go grocery shopping for most or all of the ingredients. (Because the UK doesn't have as many preservatives and other stuff in the foods, produce doesn't last quite as long as it does in the US, so we might do a smaller trip later in the week for the rest of the vegetables.) The only downside is that we organise our shopping list by recipe instead of by location in the grocery store. I need to create a template for a shopping list that groups things by location.
Our two week rotation looks like this:
WEEK ONE
Monday: fish & vegetables
Tuesday: salad
Wednesday: vegetarian soup or sandwiches
Thursday: vegetarian
Friday: Italian
Saturday: grain bowl
Sunday: Luke's choice
WEEK TWO
Monday: meat & vegetables
Tuesday: vegetarian salad
Wednesday: soup or sandwiches
Thursday: vegetarian
Friday: courgetti (zoodles)
Saturday: Asian
Sunday: Hannah's choice
Last summer, we decided to expand our options for Wednesday because who wants to be eating hot soup on a warm summer evening? We also included courgettie (or zoodles, for us Americans) because we found we were eating it about every other week anyway.
So what kind of foods do we cook? (And yes, I do mean we. We split the cooking about 50/50. It might even be 60/40 with the scales tipped to Luke if I'm being honest.) Here's what a typical two-week menu looks like for us.
WEEK ONE
SALMON, ASPARAGUS, & BROCCOLINI
We probably have this meal more often than anything else. The grocery store near our house as a great deal for packs of 2 salmon filets (3 for £10). It's just too easy and too refreshing to resist. We cook the salmon at 200°C for about 20 minutes with lemon, salt, pepper, and sometimes dill. We do the vegetables on the stovetop with oil or butter, lemon, salt, and pepper. It's great all year, but it's also the perfect al fresco dinner in the summertime.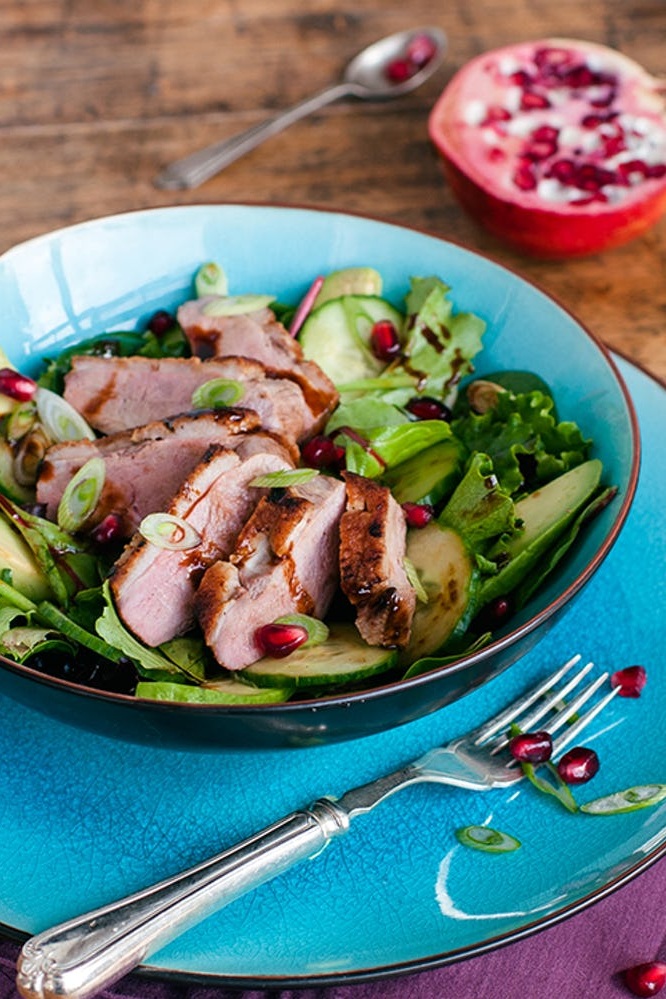 I've mentioned the meal subscription Simply Cook before. It's different from Hello Fresh and Blue Apron in that it only sends you the flavour pots (sauces, spice mixes, etc.). It sounds lame, but we actually remake more of these recipes than what we've tried from Hello Fresh because the flavours are just out of this world! We always make the salad on spinach and always include the avocado. The recipe calls for "Szechuan Five Spice" and "Chinese Marinade", but we've only found Chinese Five Spice and Szechuan marinade at our grocery store. It works well!
We first tried this in the autumn and were seriously impressed. It's so easy to make and we almost have all of the ingredients on hand. It would be really nice with some bread, but again, we're trying to cut back on how much bread we have throughout the week.
BBQ CHICKPEA & CAULIFLOWER TACOS
This is easily one of our favourite options for vegetarian nights. We follow the recipe closely, but switch the jalapenos for avocado. Using a head of cauliflower and a tin of chickpeas makes a ton of food for us, so after 2 tacos each (they're so filling), we have plenty for leftovers. Also, this is the slaw recipe I always use now.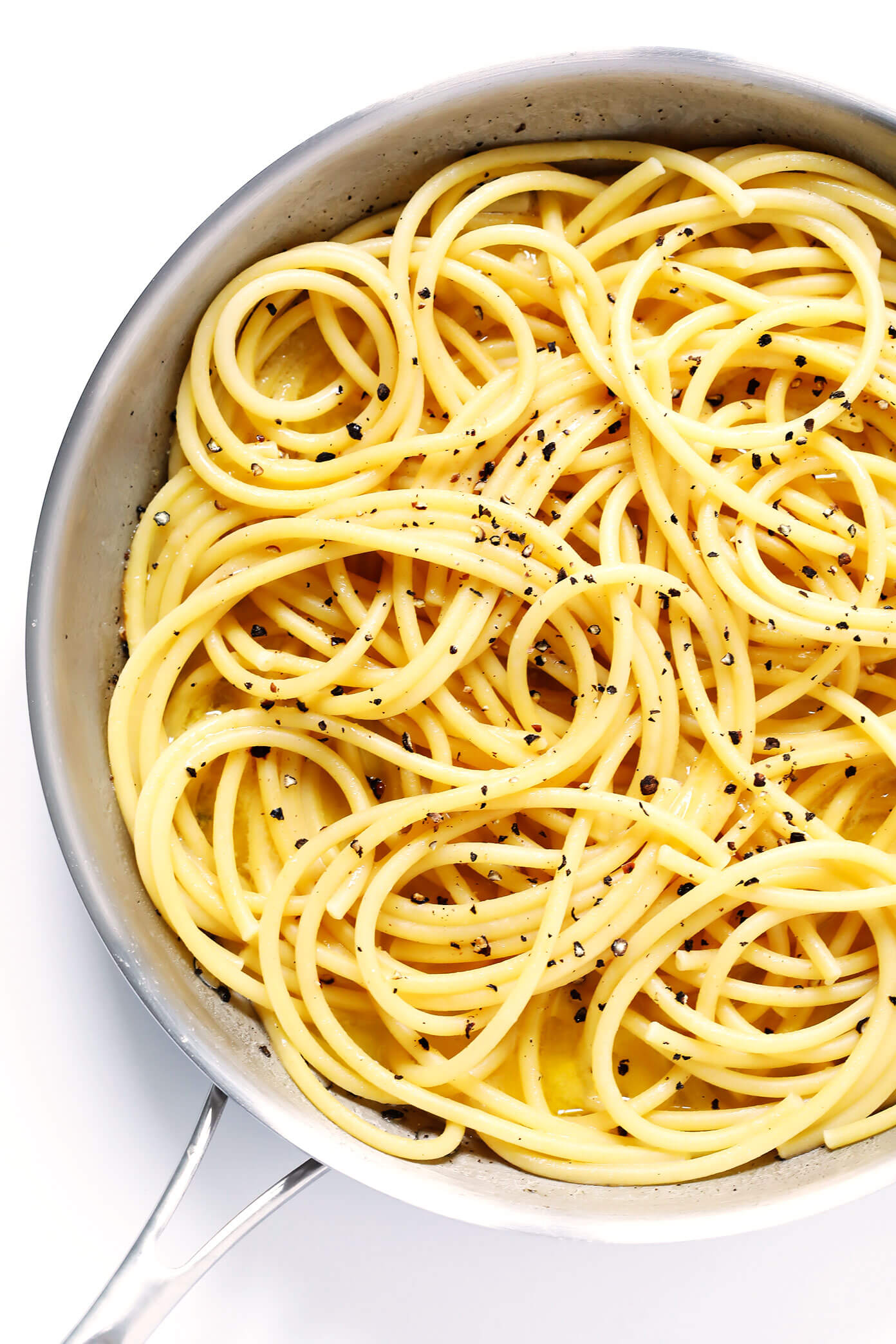 We were first introduced to cacio e pepe from Chrissy Tiegen in her Cravings cookbook. Her lemony arugula (rocket) version is heavenly. But when we took our cooking class in Rome, it totally changed the game. We learned that fettuccine alfredo is not a thing in Italy. Cacio e pepe (meaning cheese and pepper) is the real deal and a typical Roman dish. It's so simple to make. All you need is noodles, butter or oil, pecorino cheese, Parmesan cheese, and black pepper. Cook your noodles as usual, saving some of the pasta water. Heat butter or oil in a pan. Add a ladle of the pasta water, add the cooked noodles, add the cheese and black pepper. Cook sauce down until it's creamy. (It should only take a couple of minutes.) I haven't made Chrissy's version since we learned how to make it in Rome, but I would love to combine the two so her version is a bit cheesier.
We used to have Buddha bowls a lot more frequently, but the truth is they can kind of be a big undertaking. However, the beauty is they can be whatever you want! We typically do it with quinoa or couscous, roasted chickpeas (love the crunch!), roasted veggies, spinach, avocado, and a poached egg. We've never added sauce because of the egg but I'm definitely curious about tahini dressing.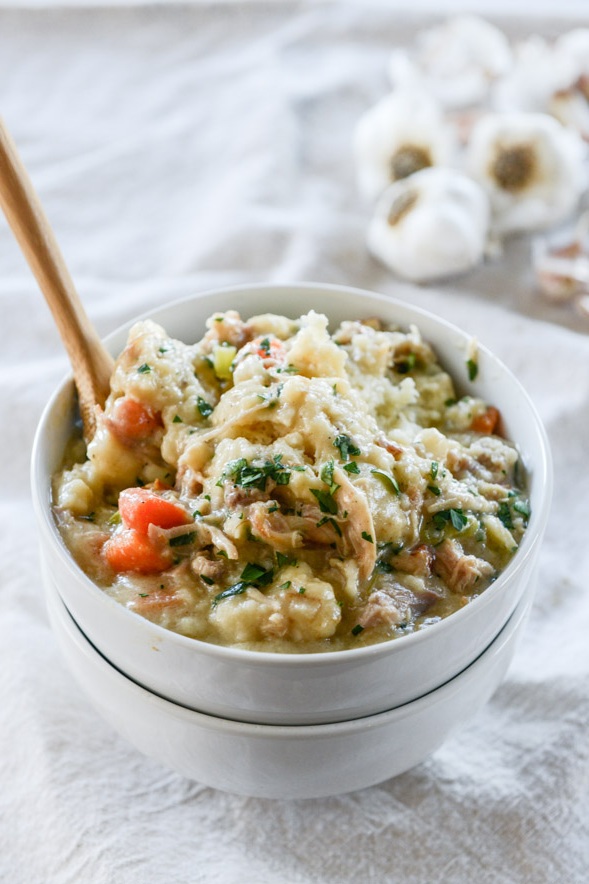 CREAMY CHICKEN & BUTTERMILK DUMPLINGS
Maybe this would be more of a treat on a Wednesday where the other days are a little lighter on the carbs and dairy, but as I'm writing this post, I'm craving this soup something fierce! I promise you it will be the best chicken and dumplings you'v ever had. (Sorry, Mom!)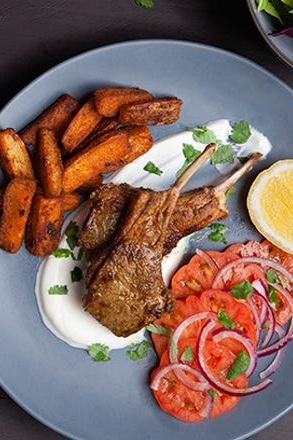 It was another hit from Simply Cook and has become one of our go-to recipes when we host people for dinner. It's easy to make and it always impresses our guests. We do the salad on spinach and always include the coriander. We haven't been able to find the spice blend that came in the box, so we just go without it. It's still delicious and flavourful.
Halfbaked Harvest has quickly become one of my favourite food bloggers. All of the recipes I've tried, I've loved and this salad is no different. We first tried it in January while we were on a cleanse diet of sorts, so we decided not to add quinoa. It's a lot of work to prep all the veggies, but it's worth it. It's actually become one of our go-to work lunches too because the recipe definitely makes six servings. Believe me. Don't try to do four. It's too much salad.
The original recipe is called "hot", but we've adjusted it to not be so spicy. We don't use the jalapenos or as much chili powder. There's still a bit of a kick though. Or at least enough of a kick for me. It's pretty easy to just toss in the slow cooker and will warm you right up on a chilly evening.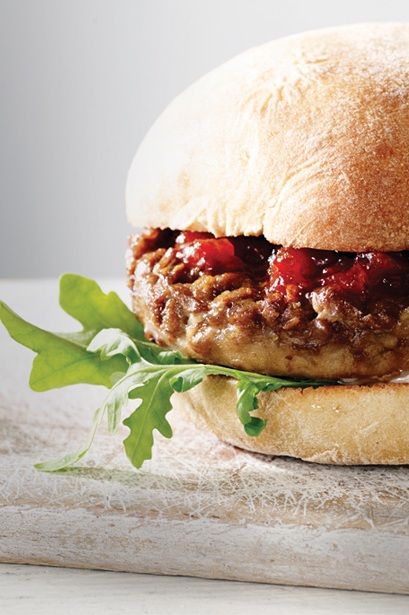 We love Linda McCartney's veggie burgers. They're seriously delish. When we're trying to be good, we'll cook some portobello mushrooms to use as buns too. It's insanely messy, but insanely good. We might have it with slaw, corn on the cob, or a salad depending on the season.
Or zoodles for us Americans. Like I mentioned above, we found that we were eating courgetti about every other week anyway, so we decided to add it to balance out our pasta nights on the opposite weeks. We usually keep it simple with pesto and sausage, but we recently started making our own pesto. It's easy. Blend 50g basil, 50g pine nuts, and 1 garlic clove in a food processor for two servings.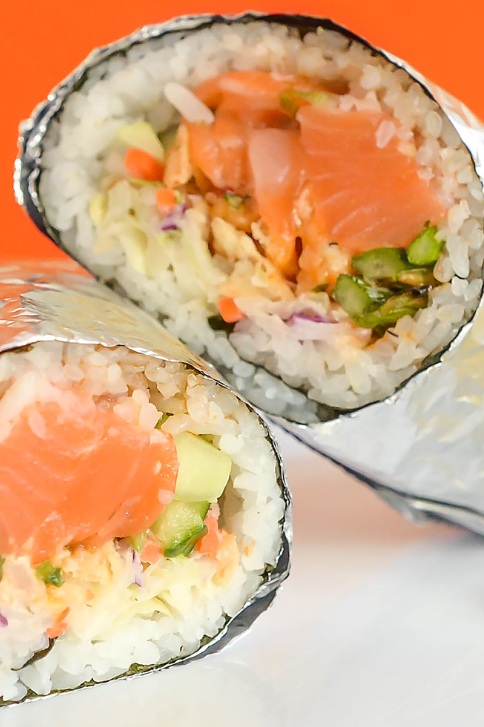 Motomaki is one of my favourite restaurants in Boulder, but there's nothing like it around here. It's essentially Chipotle, but for sushi. You can get big rolls (wrapped in seaweed, not tortillas, don't worry) or bowls. I always get the shrimp tempura and add sushi salmon and we've tried to recreate it a couple of times. We can get frozen shrimp tempura at the grocery store and now our store has a sushi bar that has salmon & tuna sashimi. You need rice, tempura asparagus (we make our own), slaw mix, cucumber, and mashed avocado. Add the shrimp tempura, diced salmon, and finely chopped tuna. Top with sriracha aioli and soy sauce.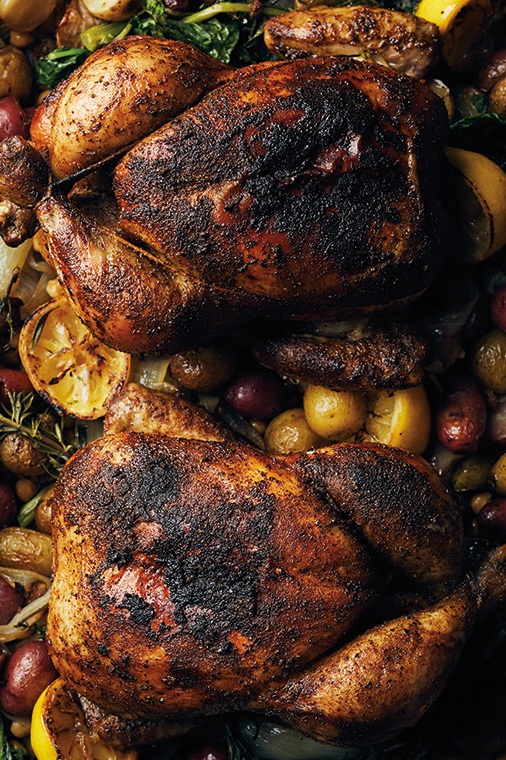 ROAST CHICKEN & ROOT VEGETABLES
We tried this for the first time in January and it was easily one of the top five dinners we've ever made. Allegedly this is the dinner Meghan Markle cooked the night Prince Harry proposed, but the recipe is actually from her ex-boyfriend who is a chef in Canada. Who knows. What I know is that this is hands down the best chicken I've ever had. The first time we made it, we didn't allow for enough time for the chicken to brine all 12 hours; we only did about 4. For the vegetables, we included a parsnip, a couple more potatoes than it calls for, and used a shallot instead of pearl onions because we couldn't find any. We had left over veggies, so I probably wouldn't use that many potatoes again.
Photos from the source recipes or of similar meals found via Google.