If you've been around to the house we've been renting for the last year and a half and gotten a tour, you probably know that the pantry was one of the biggest reasons that I chose the house. (Luke didn't even see the house until the day we moved in, I just sent him photos and videos.) Our pantry is under the stairs. It's dingy and narrow and the shelves are warped. But having all that extra space in our kitchen has been so useful. It's pretty much always stocked with the usual pantry items and the back is packed with kitchen appliances, more glasses, and speciality dishes and cooking equipment. The whole thing is really organised. Baking stuff goes on the top shelf. Cooking stuff (canned goods, sauces, dried goods, etc.) are on the middle shelf. The bottom shelf is half canned pumpkin and half odds and ends (including Chick-Fil-A sauce). Even the boxes in the back are organised. But the whole thing is nothing to write home about. It's not Pinterest worthy. It's not Instagram worthy. It's just good ole fashioned useful.
But you may have seen on my Instagram Stories recently, we keep much of our pantry staples and dried goods in the KORKEN jars from IKEA. I recently labled them all with a white permanent chalkboard pen and I love the way they look in our pantry and on the end shelves on our cabinets, but I can't help but dream about a perfectly organised minimalist pantry that hopefully the house we'll buy later this year we'll have.
Truly, I could spend my whole day pinning linen closets and pantries on Pinterest. I don't know why, but I can never get enough! All my house and interior pins have drastically increased as we inch closer to buying a house, but I'm especially a sucker for those #organisation pins.
Today I'm sharing a couple of my favourites and what I love about them. So just know that none of these are my photos, I'm just drooling over them.
This definitely feels like the ultimate pantry to me. I love the mix of glass jars (and I assume plastic containers) to hold different things. Especially the lemons! Our pantry will probably end up looking something like this because we need more space to keep our appliances like our mixer, blender, food processor, etc. and even some of our bigger crockery.
While I love the idea of those stackable containers, I'm not sure they're exactly my style. I'm obsessed with the jars on top though. My favourite thing about this pantry are the different baskets to keep produce, bottles, bread, and smaller jars. All the elements really work well together and I love the mix of light wood, light wicker, and white metal.
Okay, if I'm being totally honest, my favourite thing about this image is the fridge. I would love to have a Smeg fridge some day, but it may just be a pipe dream. Onto the pantry. It's a bit more out in the open, which makes me love its minimalist vibes even more. Our jars are two rows deep on our open shelves because they're only as tall as our cabinets, but this is the dream. I love how they're all perfectly spaced and smallest to biggest going down the shelves.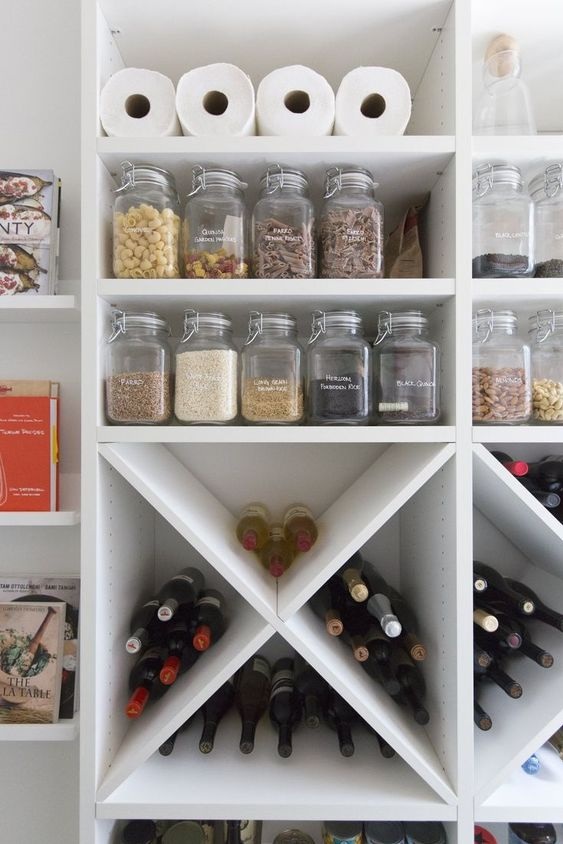 I would love to see a photo from this pantry a few steps back because it almost feels like a butler's pantry. I'm particularly drawn to the X shelves for the bottles, which is like a larger version of the wine rack Luke built into our bar. Since we already have something like this for wine, I could see us using it to stock beer and other bottled beverages. Right now we don't really have a good space for sodas or beer.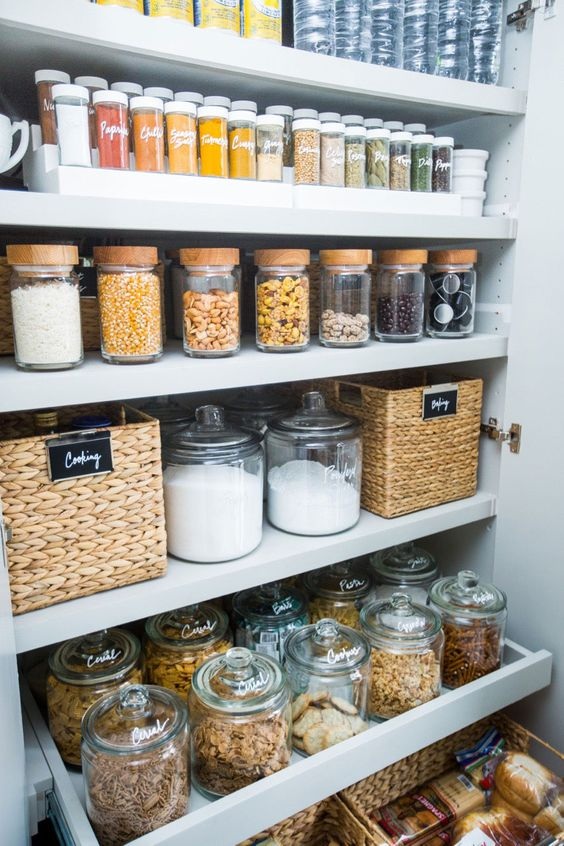 Yes, I love the jars. I love the baskets. But what I especially love is the spice rack and the drawer. Luke built us a spice rack that's great for the jars we have, but this "stadium seating" feel is perfect for the taller jars with the labels on the side. (I painted our jar lids black and wrote the spice on the lid.) The drawer is such a good use of the space for those bigger jars that need to sit two or three rows deep.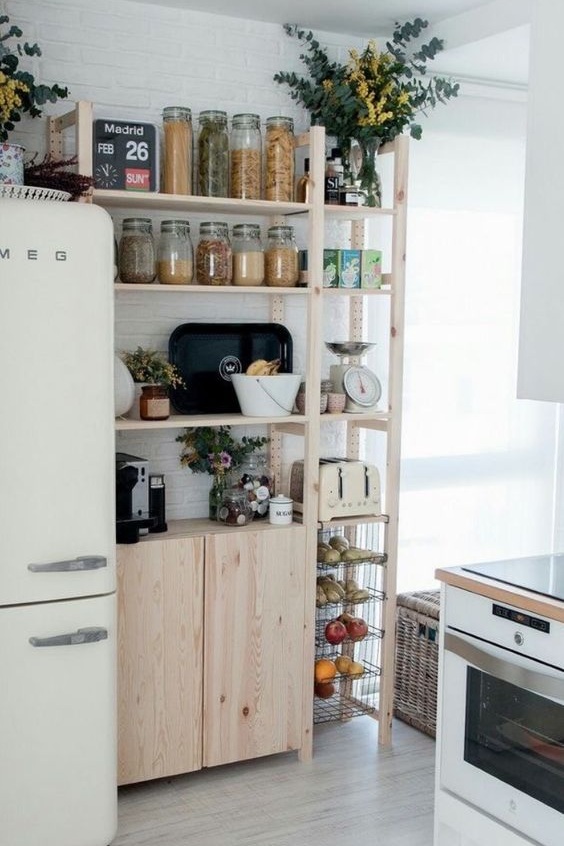 Once again, let's swoon over the Smeg fridge. But moving on. This is so perfect for a smaller kitchen. In fact, if we didn't have our pantry now, I would have probably asked Luke to build me something like this. It looks like our exact jars on the top, but I love the narrow rows of baskets on the side and the closed cabinet for the things that probably don't look as pretty.
Give me all the things! (Especially that pitcher!) I love the smaller baskets for the produce. (Did you know you shouldn't store onions and potatoes together?) It's such a great alternative to throwing everything into a big bowl on the counter…which is actually what we currently do. I also love the pretty little things that need to be stored, but really elevate the pantry as a whole and probably makes you want to keep the door open.
I gotta know, what's the weird house thing (which room, which storage space, which organisation technique?) do you just get insanely giddy about? Or…is that just me?